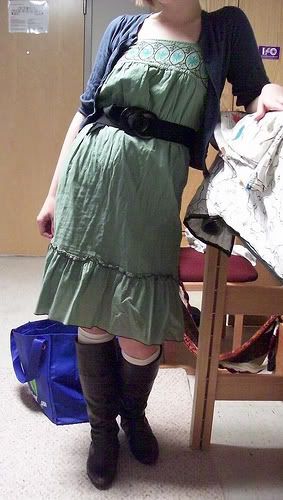 Winter is dragging on and I've got the worst cold... I'm really glad it's not flu which has been going around, but I'm still frigging miserable, and I had to miss a visit to Rosine, Kentucky last night, which from descriptions from my friends, seems to be a town completely devoted to playing bluegrass music in barns on Friday nights. At least it's a weekly thing and we can go again...
I winterized one of my spring dresses as a way of forcing myself to think positively. The
Art Nouveau
details make me smile. Oh, and notice that I have a reusable shopping bag in the background! I'm definitely planning on using it as soon as I have some money to buy groceries, but to top it all off at the moment I kind of don't, so it is full of books about Mary Queen of Scots right now.
Oh yeah, and I saw
Once
the other night and the clothes totally inspired me. The music is so good but too sad for me to listen to by myself...
Oh, and I've got to ask all you regular Wardrobe Remixers: what is the
deal
with non-WR guys "favoriting" my pictures and can it be prevented?